Green Token Fundraising
East of England Co-Op Stores
*** £500 Raised !!! ***
1st August to 31st October 2016
Thank You for Your Support
Participating Stores
Colchester Essex
Mersea Road
Wimpole Road
Abbotts Road
Old Heath Road
Harwich Road &
Greenstead
Wivenhoe
Rowhedge
**********
Karen's Sponsored Swim
Karen HAS COMPLETED
her 3 mile swim in 2 hrs 9 mins
on 14th December 2015
RAISED £850 sponsorship
PLUS over £180 in gift aid
*** TOTAL over £1,030 ***
All monies will go to
Essex Retired Police Dogs Fund
THANK YOU
TO ALL WHO SUPPORTED
KAREN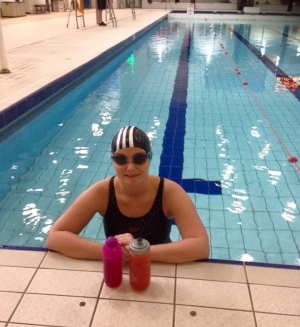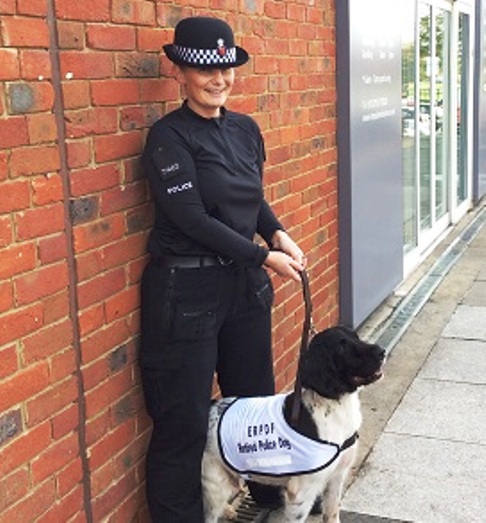 Karen with Kato in these pics
In Karen's own words:
"I have decided to complete a 3 mile swim on
14th December 2015 in aid of the
Essex Retired Police Dogs Fund (ERPDF).
Please sponsor me, as without this fund police dogs that have worked most of their lives could suffer.
I re-homed Retired Police Dog Kato - 18 months ago he became seriously ill and ERPDF have supported us so much and have been able to provide funding for Kato's treatment, enabling him to make a good recovery so he can now enjoy his retirement.
These dogs serve and protect; they are truly amazing animals.
Please donate to this worthy fund and I will swim
my heart out thinking of these gorgeous dogs! "
**********
ANNOUNCING
*** THE ANN ADAMS CUP ***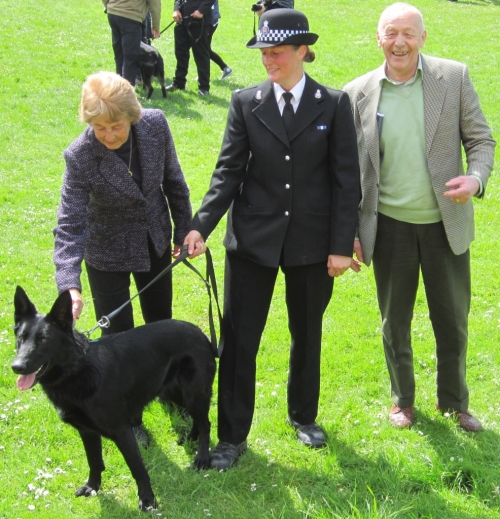 Ann Adams - Amanda Pollard - Eric Adams
PD Frankie
THE ANN ADAMS CUP
Tribute to Ann Adams
Ann was one of our founding volunteers who assisted at many of our fund raising events.
Sadly Ann passed away suddenly in November 2014. Ann was a kind and generous woman and we were privileged to have her determined support.
Dogs had always been a part of Ann's life, from family pets to competing at Crufts.
Ann was very proud when her daughter became a dog handler with Essex Police and, like the fund,
she felt strongly about the need to support
police dogs when they retire.
Essex Retired Police Dogs Fund would like to recognise Ann's endeavours by presenting a trophy, kindly donated by her family.
It is in her memory that this inaugural cup,
The Ann Adams Cup
will be presented each year to the
front cover photo winner of the ERPDF
Calendar Photographic Competition.
26th May 2015
**********
Many thanks to former Police Dog Handler
Steve Hutley BCCSDip.CanBhvPrac
for all his support and
to wish him every success in his
new career as a
Dog Behaviourist
Contact Steve on 07859879559
stevehut@yahoo.co.uk
*********

Registered Charity No. 1158745 Essex Retired Police Dogs Fund