Retired Police Dog Tia

March 2019
Tia served as a General Purpose Dog
from September 2015 to January 2018.
She was highly driven with
excellent searching skills.
A loving dog at home yet fearless in the job
- Tia protected her handler from serious
assault by fighting back against a
suspect who rained punches on her;
she refused to let go until backup arrived.
Tia was re-homed to her puppy walkers.
**********
Retired Police Dog Bruno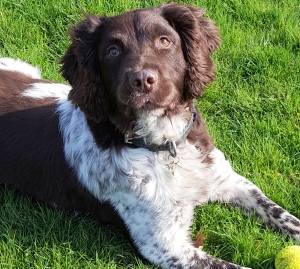 February 2019
Bruno, a Springer Spaniel, served
from Feb 2007 to March 2017 - a Drugs,
Cash & Weapons Recovery Dog.
Bruno became known as a 'Lucky Charm'
by the proactive drugs team based at Harlow
- at every job Bruno got a positive result.
Bruno is a true gentleman of the dog world.
Bruno was re-homed on retirement
& is much loved by all.
**********
Retired Police Dog Louis

January 2019
In 2003 Louis was found abandoned
and tied to a tree.
Essex Police trained him and
he served from 2003 to 2009.
Louis had a very successful career &
was well known for his on guard attitutde.
Louis was re-homed on retirement
and is a much loved family dog.
Louis is approx 15 yrs old.
[Louis passed away 24 February 2018
he was 16yrs old - his family are heartbroken]