I am delighted to be the Patron of the Essex Retired Police Dogs Fund (ERPDF). It was whilst serving as High Sheriff of Essex that I saw so much of the work done to keep the streets of Essex safer, and in particular the invaluable contribution Essex Police dogs make to policing and protecting us.
When a police dog retires Essex Police are no longer responsible for granting financial support in respect of the dog's health or general care. It is therefore with great joy that I introduce you to ERPDF, which has been formed to fill this void and can assist anyone who owns a retired police dog with the payment of veterinary and care bills.
ERPDF receives no public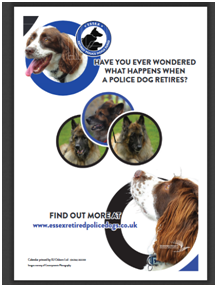 or statutory funding, is a voluntary organisation and is entirely dependent on public support, mainly through donations. If you would like to give to this worthy cause, please visit our donations page. You can be assured that your contribution of whatever size will greatly help these exceptional dogs enjoy a well-earned retirement.