WELCOME !
This is the home page for the
Essex Retired Police Dogs Fund
We hope you enjoy finding out about our work
in support for these exceptional dogs
**********
SOLD OUT

Thank You !
2021 Calendar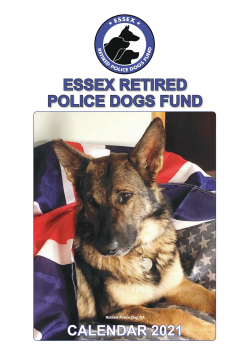 **********
DID YOU KNOW...
Since 2012 we've helped
46 Retired PDs
Some just once
Others up to 21 times
With money towards Vet & Welfare Costs
Over £44,000 to these Exceptional Dogs



Thank You On behalf of us ALL
**********
Buy a £1 Ticket & Support
Essex Retired Police Dogs
**********
2021 Calendar Dogs
Retired Police Dog GIZMO

January 2021
Gizmo served from 2015 to 2018
as a General Purpose Dog.
He was and is a very active and willing dog.
Gizmo was Essex Police
Tracking Champion in 2017.
He loved to bite jackets and
hated emergency recalls.
Gizmo retired to his new home
down on the farm.
**********
Association of Retired Police Dog Charities
Registered Charity No. 1158745 Essex Retired Police Dogs Fund
© 2014 Essex Retired Police Dogs Fund All Rights Reserved

Updated August 2020