CALENDAR PHOTO COMPETITION
Winning Photos
will feature in 2022 Calendar
(only photos of Essex Retired Police Dogs)
2022 will be our 10th Anniversary
(1st to 31st May 2021)
Winners Announced
in July

Good Luck !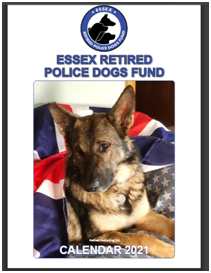 (2021 Edition)
Started 1st May

Closed 31st May
CALENDAR PHOTO COMPETITION
Essex Retired Police Dogs Fund are running a photographic competition to choose photos of retired Essex Police Dogs to feature in our 2022 Calendar which will be sold to raise money for the Fund.
www.essexretiredpolicedogs.co.uk
Telephone: 01206 823739
Rules:
Subject matter - must be a
Retired Essex Police Dog.
Can be any Type/Breed, Brood Bitch/Stud.
May be historic photos of dogs that have since died.
Photos of dogs only -
(No humans in the photos!)
Photo can be taken by person other than owner but with written permission to use.
Name of retired dog must be included in the application and history of service (Start & Finish Dates, Injuries Sustained, Recognition Awards etc).
Entries should be submitted by e-mail to info@essexretiredpolicedogs.co.uk
The Calendar will be produced as A4 landscape and the winning photos will be reproduced in that format with adjustment to allow normal borders, a brief description of the subject matter and name of the photographer - therefore the images must be capable of being reproduced to a high quality at that size (recommended minimum size approx. 2500x1900 pixels).
Entries must be labelled with the entrant's name and entrants must include their address and telephone number and if under 16, a note of their date of birth as well as a brief description of the photo to include the date and location of the photo and if wished a title. Personal details will be used only for purposes of administering the competition.
All entries must be received by midnight 31st May 2021

All photos submitted must be the work of the individual submitting them. It is the responsibility of each entrant to ensure that any photos they submit have been taken with the permission of the subject and do not infringe the copyright of any third party or any laws. Entrants warrant that the photograph they are submitting is their own work and that they own the copyright.
Entrants will retain the copyright in the photos they submit for this competition. However, by entering the competition, each entrant grants a world-wide, irrevocable, perpetual licence to the Essex Retired Police Dogs Fund
Each entrant may submit up to four photos, e.g. one for each season. Late, illegible, incomplete, defaced or corrupt entries will not be accepted. No responsibility can be accepted for lost entries and proof of transmission will not be accepted as proof of receipt. Entries must not be sent through agencies or third parties.
The winners will be notified within 21 days of the closing date of the competition.
The winners may be requested to take part in publicity.
The prize is the publication in a Calendar of the winning entries and a free 2022 Calendar.